Ernest henry crack
A Family background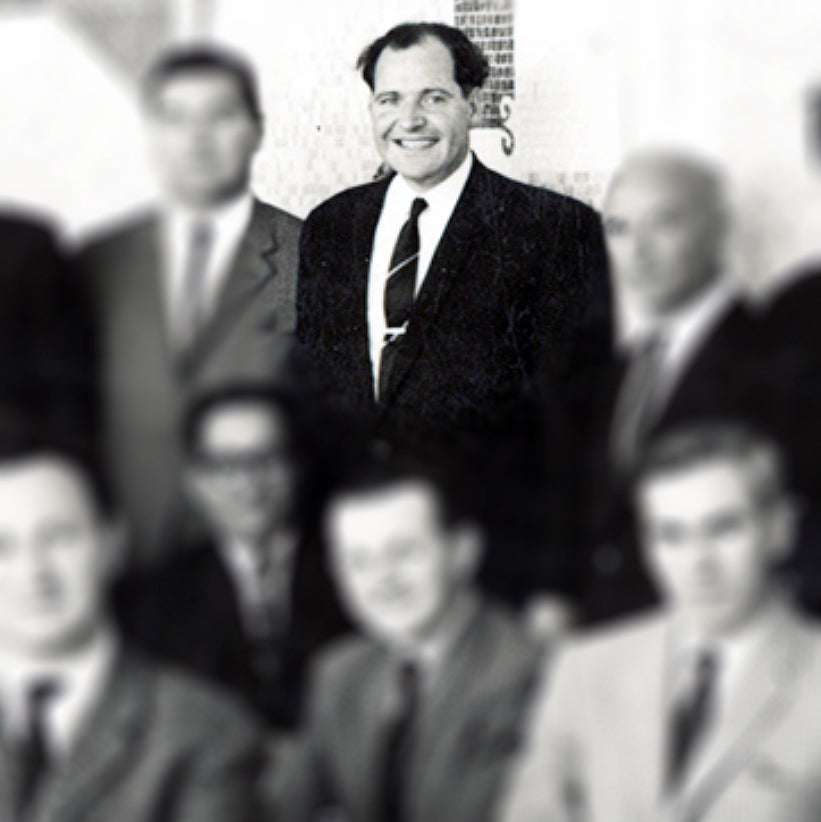 Ernest Henry Crack. (1922 -1999) A Deptford born father of six daughters and four sons, Ernest spent his entire working life in the UK Leather Industry. He is credited with being the creator of the heavyweight suede (2mm+) required by C&J Clarks for their now world famous and iconic  'Original Desert Boot'.
From 1953, he revived the fortunes of the renowned English Tannery,  Charles F Stead & Co Ltd in Leeds in what he considered as a partnership between the Stead and the Crack Families. Ernest's involvement in the Industry was recognised when he became President of the British Leather Federation in the late 1970s. 

Peter and Douglas Crack, along with David Bailey continued to build on the foundations he laid. Today their sons too, Kenny Crack (MD), Michael Crack (Technical Director) and Andrew Bailey (Sales Director) are all integral in the ongoing evolvement of Steads.
One of his most telling statements and selling points for our UK Industry was: "Give English Tanneries your business! Or one day they will be gone forever. If we were to leave the Common Market or if Dock and Transport strikes were to prevail, where will you get your leather from?" Back in the mid-nineties,  wasn't this radical foresight!
AlAN & TONY CRACK
1980 - 1990
1987 - Formation
Alan Crack joined BB Vos Ltd in 1972. The Company was a highly regarded Northampton based Leather Merchanting operation, supplying mainly the local and national men's welted footwear manufacturers. Tony Crack having spent a year at Yarwood Leather in Leeds, joined GL Michel & Sons Ltd (Leather Merchants) in 1981. They were also based in Northampton and specialised in supply to the Bespoke/Handmade and Orthopaedic trades.
In 1987 the two brothers joined forces and under the guidance of owner Mr Hugh Vos, the takeover of the Business commenced. A&A Crack & Sons Leather Merchants was established as a Partnership.
1998 - New Premises
Following one calendar year working from the BB Vos offices in Far Cotton, Northampton, A&A Crack & Sons rented their own warehouse (from Oliver Adams, the Bakers) in Beech Avenue in Abington, Northampton with a staff of 5.
EVOLUTION
1990 - 2000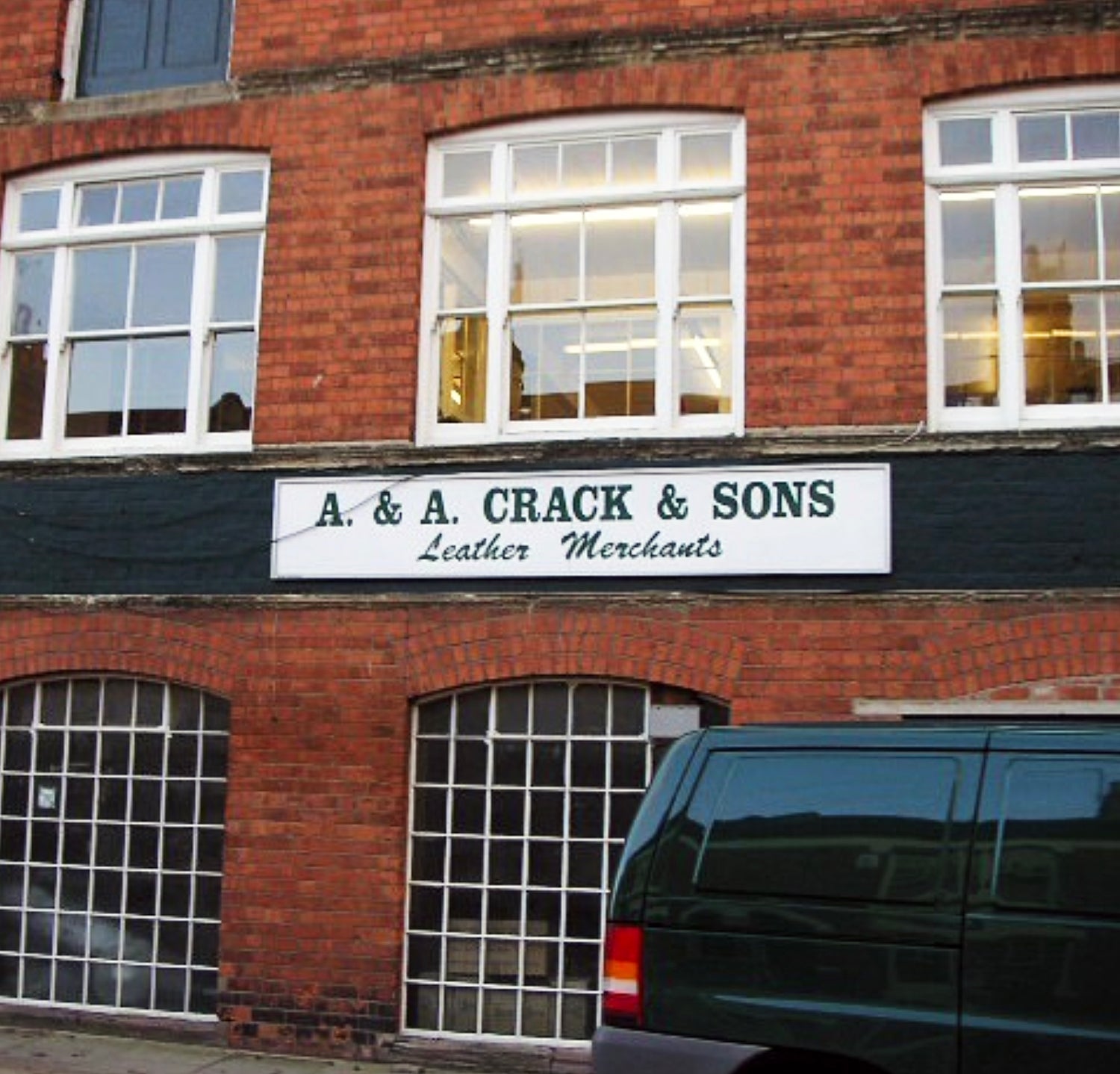 1991 - Upgrade
Having outgrown the 1000 square foot warehouse in Beech Avenue, the plunge was taken to purchase premises. The old long since closed down Dawn Shoe Factory, at 18 Henry Street, Northampton, was purchased by the brothers.
Mortgaged to the hilt and being some 6000 square feet, the brothers (who both now had young families) felt at least they would be able to rent out the top two floors to recoup costs. If only that had been true as it seemed to be filled to the brim with leather within the first 18 months.
Generation
2000 - 2010
2005 - Mordernised
The logistics of Henry Street being Town Centre located had become more and more restricted for deliveries and customer parking. The decision was made to move to the large, ideally situated Industrial area, Brackmills, on the southern boundaries of the Town. Here motorway and ring road links would, we hoped, enable customers to easily visit us without the inconvenience of parking worries. It was, without doubt, a great move and we remain here to present day.
2007 - New Generation
When Alan and Tony formed the Business back in 1987, the '& Sons' was chosen to give the Company a perceived history. In 2007 that history became reality and Stephen Crack, son of Tony joined the Firm, 20 years on from the company's founding. Stephen, a raw 21 year old young man, began in the warehouse learning the ropes. Moving on a few years, and beginning to understand the Business better, he instigated (under somewhat reluctance from the Partners) the development of the 1st generation A&A Crack & Sons website.
Legacy
2010 - 2020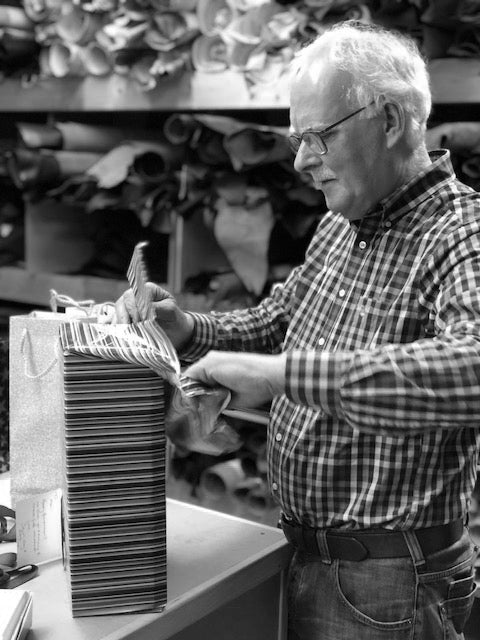 2012 - 25 years and counting
The company celebrate their 25th year trading.
2016 - Expansion
The company expanded its tannery representation joining up with exotics French tannery HCP, as well as vegetable tanned Italian tanneries Conceria Walpier and Badalassi Carlo. New lines were added to the ever-expanding range, making more world- famous articles available in small quantities to its customers.
The company branch into other areas by becoming a distributor for Saphir. A luxury polish company in France.
2018 - End of an Era
After 31 years together, it was time for Tony to say 'Goodbye' to his Co-founder and brother Alan who retired in 2018. His contribution to the Business was immense and his achievements quite astonishing. He was highly regarded and respected throughout the leather trade which he had served with honesty and integrity during an amazing 46 year career. His attention to detail had been second to none. He has been sadly missed ever since. 
FUTURE
2020 - PRESENT DAY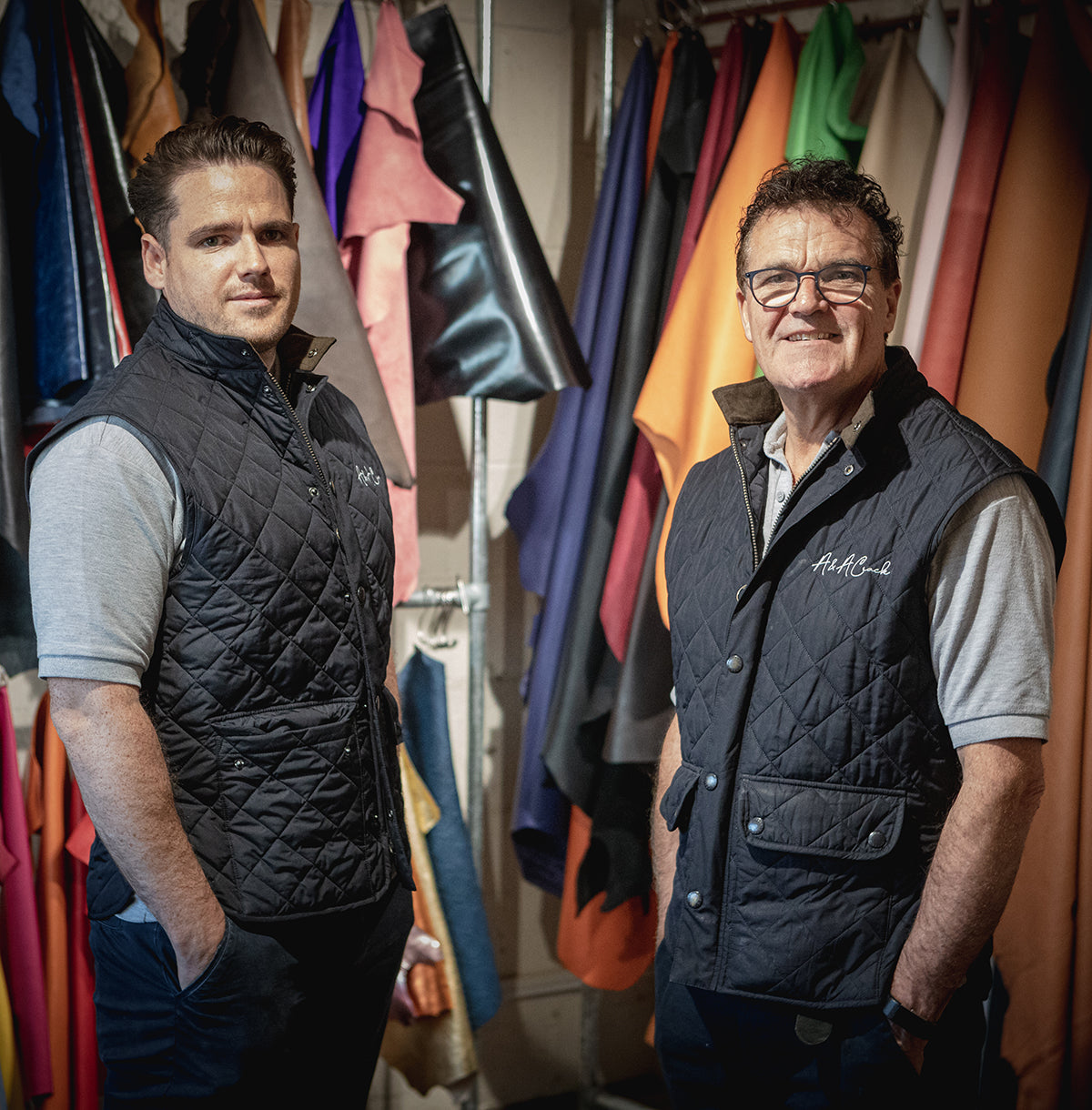 2020 - Innovative
The company teamed up with global brands Intercom adhesives and Uniters Edge Paint.
2022 -
A&A Crack & Sons continues to evolve under the leadership of Tony and Stephen. The Company ethos will always be: Provenance, Transparency and Sustainability in the supply of quality leather from the finest Tanneries around the World.